Isle of Green Garden Center
We have the pleasure of being able to offer our retail customers the same great quality we offer our wholesale customers at the Garden Center, located at 609 S. 9th St., Marshalltown, Iowa.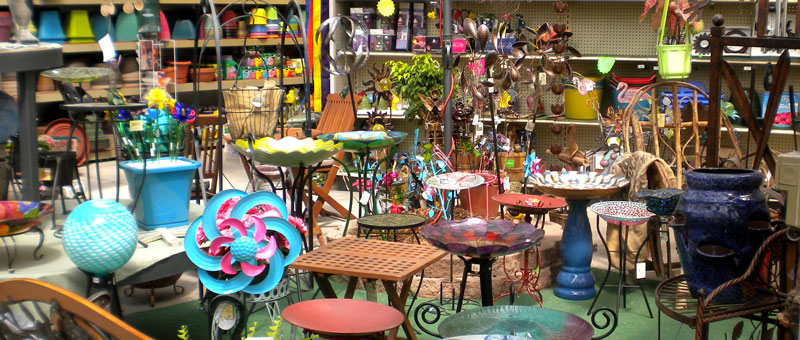 Getting Your Garden Ready for Spring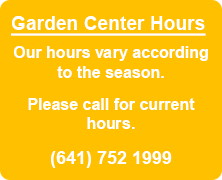 With knowledgeable staff on hand at the Garden Center, stocked by our very own local Isle of Green greenhouses, we can assist you in preparing for spring and advising you on how to maintain a beautiful garden, through the seasons. Speak with our in-house design consultant for additional advice on how to plan out your garden!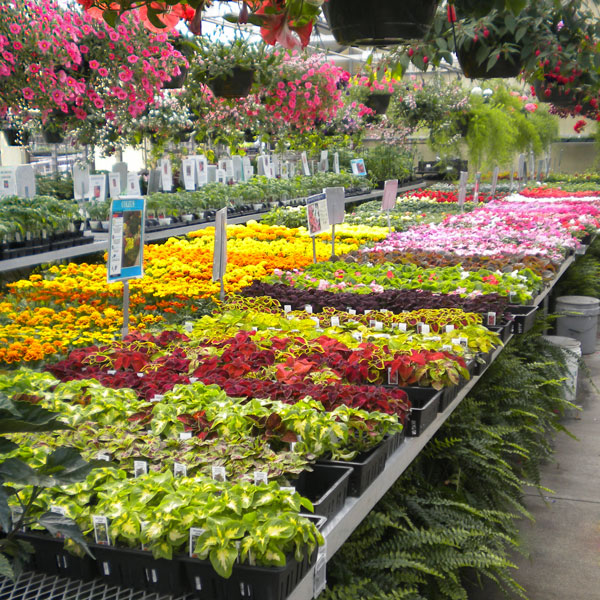 Many Varieties of Plants Available
View our hundreds of varieties of 4" & 6" perennials as well as 4" annuals, tropicals and bedding plants. We also have 10" pots of geraniums, hybrid impatiens, mandevilla, flowering maple and many more. Along with our high quality combination planters we carry many different variety of hanging baskets.
Our hanging baskets include, but are not limited to: goldfish plants, combination baskets, 18 different million bells, many varieties of the newest hybrid petunias and 18 zillion spider plants at the Isle of Green Iowa Garden Center!
Don't forget we also have ornamental grasses, a large selection of succulents, heirloom flowers, veggies & gourds, asparagus, seed potatoes, onion sets and plants, rhubarb and strawberries, as well as packaged seed and an expanded line of bulk vegetable seed.
Other items we have at the Garden Center include:
Tropical plants and houseplants

Top of the line roses

Hardy shrubs to enhance your landscape
Central Iowa's largest selection of herbs!
Outside, Decorations & Tools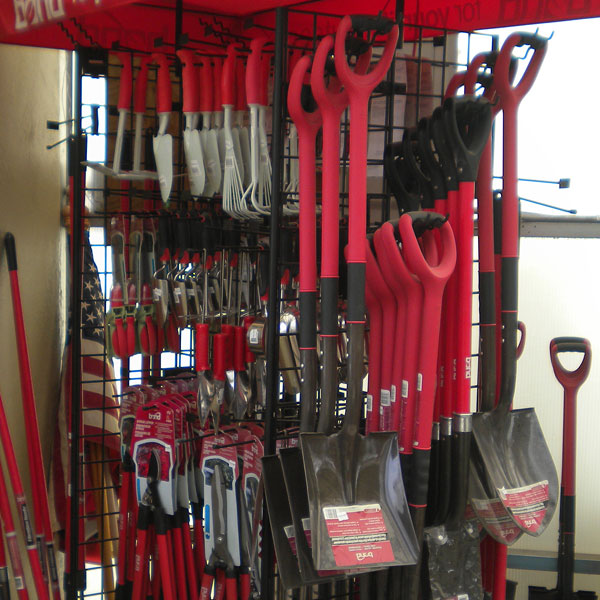 Isle of Green Iowa Garden Center encourages you to take a walk or a rest in our gorgeous perennial display garden. Make sure to check out Isle of Green's new indoor/outdoor potting bar!
When you stop in to the Garden Center, view our fountains, Isabel Bloom, garden flags, stepping stones, gazing balls, as well as our indoor and outdoor home decorating accessories. We also carry a large assortment of glow in the dark garden ornaments.
Plant care is easier when you have the right tools! The Isle of Green Garden Center carries a variety of garden tools, gloves, ceramic, resin and terra cotta pots as well as a huge selection of concrete garden urns, benches and statuary.
Visit Us at the Garden Center!
Visit us to find out more about what else we have to offer at the Isle of Green Garden Center!
Gift certificates

Featured plant of the week

Isle of Green Iowa Garden Center introduces "shop with a friend" check see store for details.
New Items at the Isle of Green Marshalltown Garden Center
Isle of green Marshalltown Garden Center has a vast collection of pottery – sizes, colors, styles and prices for any budget.

Fountains – polyresin, fiberglass, concrete and the look of rugged rock, from table top to the large models, these fountains will make a splash in home or garden.

Gazing globes – from 4" to 10" with styles from pin dot to swirl and many colors. Pick your favorite, don't forget, you'll need a stand.

Fun, Echo Valley glow in the dark garden décor.

Beautiful glazed or concrete bird baths.

The Isle of Green Marshalltown Garden Center will feature the english willow garden collection. A "must-have" staple for today's gardener.

Think green! Eco-friendly planters in a variety of shapes and colors.

Enviro-mulch, environmentally friendly product – made of 100% recycled tires, reduces weeds, retains moisture and deters mosquito nesting!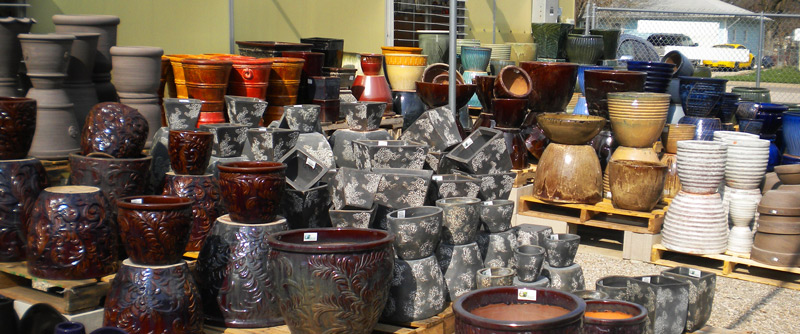 New Plant Arrivals for the Growing Season!
From over 100 new annuals for the garden, these are a few of our favorites:
Agastache "hyssop" – alcapulco series – light airy annual with pastel blooms, very fragrant and attractive to butterflies & hummingbirds.
Alternanthera – party time – perfect for borders or display gardens, growing 24-30" in height, bright green and hot pink foliage adds flair to any setting.
Begonia – bonfire – the combination of interesting foliage and a profusion of bright red-orange flowers makes this low maintenance plant a winner for 2008.
Callibrochoa "Million Bells" – we at Isle of Green Garden Center are bringing you the latest rainbow of colors for a classic favorite.
Tiny Tunias – perhaps the biggest breakthrough in the garden world in years, this hybrid goes where the waves could not. Versatile for containers, small spaces, borders and it's happy with part-shade or full-sun, this sturdy annual will provide constant blooms all summer without the necessity of pinching back or deadheading.
Sweet Potato Vine – rarely do we find a customer that can go without purchasing one the traditional colors of this vine. We are proud to introduce three new versatile colors that will blend perfectly into any landscape. Whether you choose the deeper shades of caroline red, bronze or prefer the delicate foliage of the new yellow/green variety, you are sure to be pleased.
Verbena – when the 4th of July arrives, no container will be complete without the festive sparkler series of verbena. No matter which you choose, be it red/white or deep blue/white, you won't need fireworks to make a blast in your backyard.